The "
ZimmerTwins Fansite
" is an unofficial fansite made by the Zimmer Twins user,
NikeHot
. It was established in June 2011. It consisted of a chatroom, discussion forums, quizzes, and a loose points system.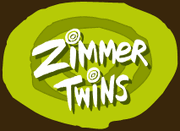 Reception
Edit
20 Zimmer Twins users joined the ZT Fansite between early and late 2011, who posted fewer than 200 posts between them. Since then, activity has dwindled to nothing and no user has logged on since late 2012.
Points System
Edit
Members were awarded "Z$" for various achievements, such as time spent on the site, with which they could buy items in shops or even a begin a shop themselves.
The only shops that existed were those that belonged to NikeHot, who sold rank titles in one, and movie comissions in another. 
Ad blocker interference detected!
Wikia is a free-to-use site that makes money from advertising. We have a modified experience for viewers using ad blockers

Wikia is not accessible if you've made further modifications. Remove the custom ad blocker rule(s) and the page will load as expected.