Star clips are a group of clips available in the Movie Maker. Unlike the Talk bubble clips, Action clips, and Close-up clips; Edgar, Eva, and 13 do not appear in any of the Star clips. They are commonly referred to as "miscellaneous clips" by some users.
The Star clips have a wide array of different purposes including, for example, a Clock, to indicate that time has passed; a blank Newspaper flyer to write on; the words "Earlier", to cut to an event that happened in the past; and a simple black screen where you can insert white-colored text.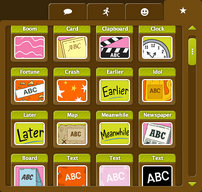 * = VIP Members only
Ad blocker interference detected!
Wikia is a free-to-use site that makes money from advertising. We have a modified experience for viewers using ad blockers

Wikia is not accessible if you've made further modifications. Remove the custom ad blocker rule(s) and the page will load as expected.