The Wizard is well, a Wizard! He has two strange horns on his head, he wears what looks like a blue robe, he has a beard, and a staff. In "The Golden Idol Awards", the Wizard is featured playing the drums during the song "Rock with Us!" performed by the Twins and 13. Sometimes the Wizard is the Twins' Dad, but since now there is The Delivery Guy, The Wizard is now often seen as the Twins' grandfather.
The Wizard can be seen as a favourite character on a VIP profile, or in his very own Star Clip.
Personality: Funny, Serious, Magical
Favourite Color: Baby Blue
Favourite Food: Unknown
Favourite Sport: Unknown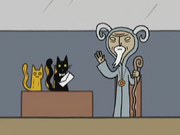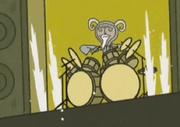 Ad blocker interference detected!
Wikia is a free-to-use site that makes money from advertising. We have a modified experience for viewers using ad blockers

Wikia is not accessible if you've made further modifications. Remove the custom ad blocker rule(s) and the page will load as expected.