What ever is a famous Australian Zimmer Twins user. Their sister BlueTurtle and cousin coolman97 are also on the site. They were born on the 13th of October, 1998 and they are currently 17 years old, being in Grade 12.   
Zimmer Twins
Edit
What ever first got an account on the Australian website until it closed down in 2008. Afterwards, What ever joined the Canadian site but in late 2009 they joined the worldwide web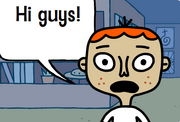 One of their first movies "School Photos" was one of the most popular movies ever. What ever has 17 must sees, which is a record. They're most recent one was made in December of 2012. What ever made a popular series
Total Zimmer
(which is a spoof of the "Total Drama" TV show) in June 2011. They started off with Total Zimmer Island. When it ended in November 2011, What ever moved on to Total Zimmer Action, the second season. However, as of May 2013 they are only halfway into the season due to inactivity. What ever's VIP expired in December of 2012, promising they will renew in January. However What ever says on other Zimmer-related websites that they might not renew.
In July 2013, they admitted that they were the roleplayers who attacked Photo-Bo's Page
What ever claimed to be sorry, but returned in a couple of weeks to roleplay again.
Peaking in August 2013, they started to spam rad256's chat Sarcy. It stopped once he set the chat to members only.
But, after a message from What ever, they claimed they were not the one who did all of the things as said above. What ever had a month break from talking to Zimmer Twins users and hasn't been on their websites at all, and claimed they were hacked.
On January 13, 2014, What ever returned for a month and got their 18th Must See!
What ever is now returning for one month every time Australian Holidays are on.
In April 2014, Whatever returned and got their 19th and 20th Must Sees!
In June, What ever returned and got their 21st must-see in July!
They returned in September and got their 22nd must-see!
What ever is planning on yet another return soon after October when their final exam's finish.
What ever wants to be an animator or a storyboard artist when they're older and eventually wants to make their own cartoon.
What ever is into drawing, going on the internet, cosplaying and watching movies and TV Shows. What ever has cosplayed Double D (Ed, Edd n Eddy), Kin (Grojband), Rainbow Dash (My Little Pony), Miguel (The Road to el Dorado), Pearl (Steven Universe), Jim Hawkins (Treasure Planet), Milhouse (The Simpsons) and Lars (Steven Universe) so far.
What ever is pansexual. 
They are currently in 12th Grade.
They have a Tumblr Account (www.officialchoochoo.tumblr.com), a Twitter Account ([[1]]) and a DeviantArt account ([[2]]) (What ever does not use dA as often as Twitter and Tumblr).
What ever loves animated Disney movies and cartoons. They also watch anime from time to time.
What ever is a feminist.
What ever is non-binary.
Ad blocker interference detected!
Wikia is a free-to-use site that makes money from advertising. We have a modified experience for viewers using ad blockers

Wikia is not accessible if you've made further modifications. Remove the custom ad blocker rule(s) and the page will load as expected.