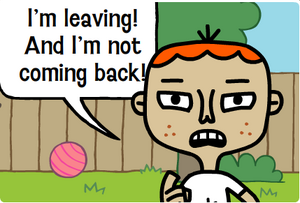 Zimmer Twins The Movie is a large project by catboy on The Zimmer Twins. It will be made into a full-length movie and published on youtube, and possibly on this page

free download of Zimmer Twins The Movie 1.0
Synopsis
When suspicious things happen, the Zimmers get torn apart. They discover that aliens are behind the mysterious happenings and attempt to stop them
Songs used
Aquabats - Stuck In A Movie, Now, Stand Back For Your Own Safety, Hello, Goodnight
Survivor - Eye Of The Tiger
Rapscallions - California Brain.
Skillet - Comatose (riff only)
Unknown - Carol of the bells
Bridgit Mendler - Hang In There Baby
Big Idea Producers - Credits Song
Original soundtracks by catboy on the guitar - Wagon Race, So This Is What It Feels Like.
Zimmer Twins The Movie 2.0
Zimmer Twins The Movie 2.0 is a major edit from 1.0. Differences include-
Voices will be added
Race Song will be re-recorded.
Credits will be revised.
So This is What I Feel Like (may) be completely re-written and re-recorded
Possible Sneak Preview of Zimmer Twins The Sequel.